Types of Hydroponics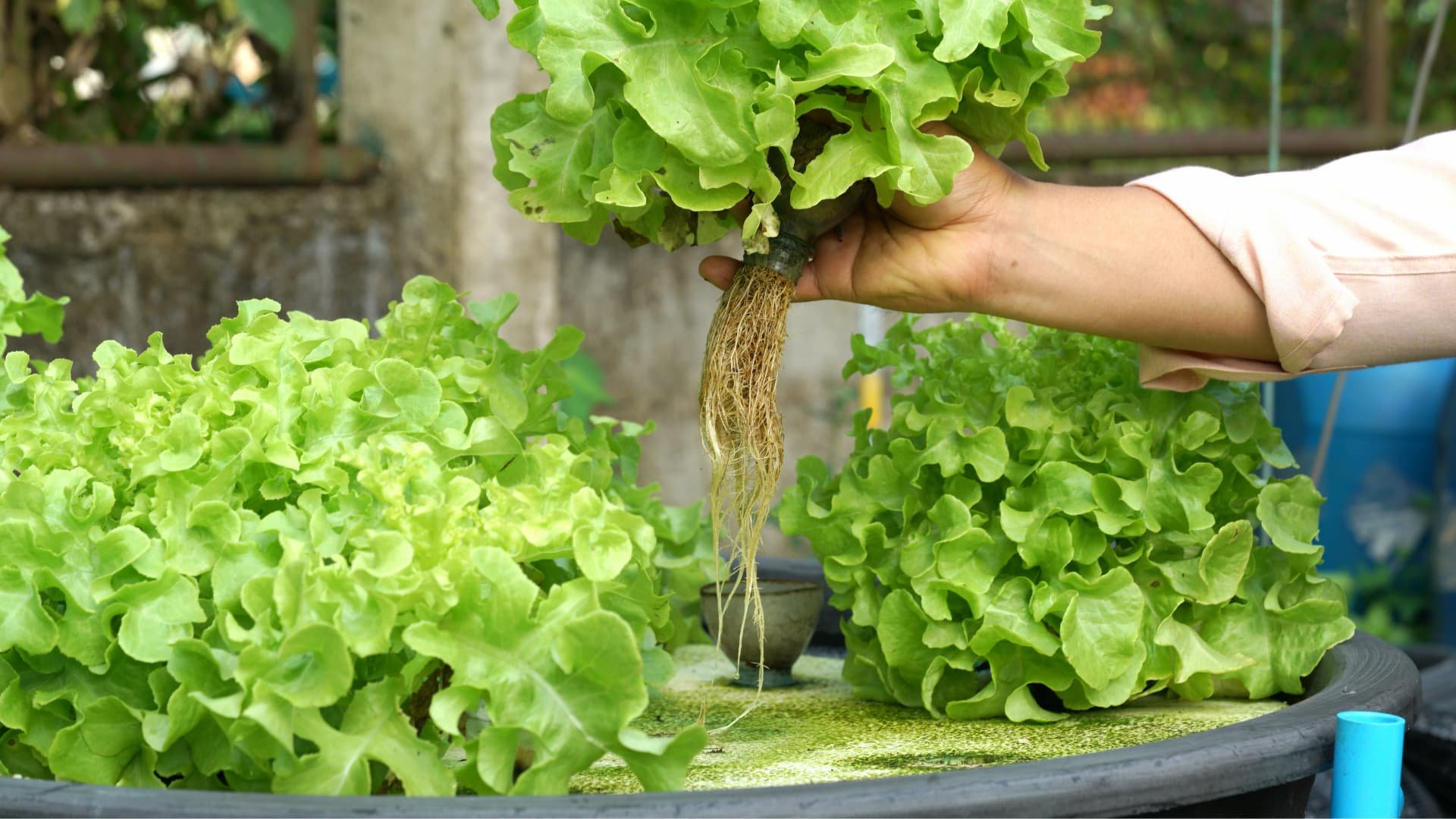 Deep water culture hydroponics are simply plants suspended in aerated water. Deep water culture systems, also known as a DWC system, are one of the easiest methods of hydroponics on the market. A DWC system dangles net pots holding plants over a deep reservoir of oxygen-rich nutrient solution. The plant's roots are submerged in the solution, providing it with perpetual access to nutrition, water, and oxygen.

Nutrient film technique (NFT) systems suspend plants above a stream of continuously flowing nutrient solution that washes over the ends of the plant's root systems. NFT is the most widely used hydroponics technique for commercial hydroponics. The channels holding the plants are tilted, allowing water to run down the length of the grow tray before draining into the reservoir below. A submersible pump then pumps the nutrient-rich water out of the reservoir and back to the top of the channel.
Aeroponics systems suspend plants in the air and expose the naked roots to a nutrient-filled mist. Aeroponics systems are enclosed frameworks, like cubes or towers, that can hold a multitude of plants at once. Water and nutrients are stored in a reservoir, and then pumped to a nozzle that atomizes the solution and distributes it as a fine mist. Aeroponics systems use less water than any other form of hydroponics.
A Dutch bucket, or Bato bucket, is a hydroponic system in which two or more growing containers are connected to the same irrigation and drainage lines. This is an incredibly water- and nutrient-efficient method, ideal for growing heavy-feeding and vining plants like tomatoes, peppers, peppers and eggplants.

A Dutch bucket, the Bato bucket is perhaps the most commonly used container for holding plants in a hydrponic growing system. Bato buckets can be connected easily, allowing hydroponic systems to be scaled to virtually any size needed. At first glance, the Bato bucket looks like nothing more than a square conventional planter. However, appearances are deceptive. These buckets are used for both hydroponics and aquaponics, and feature the ability to use a single watering line and a single drainage line for multiple media beds when lined up together. Hydroponics rely on the use of growing mediums to ensure that plants have a place to anchor, and benefit from stability. While larger media beds can be used, they are not always ideal. The Bato bucket system provides a solution that offers scalability, combined with a small form factor.

Bato buckets can be used to grow virtually any plant type, they are especially useful for vining crops like tomatoes and cucumbers, as well as for growing larger plants. It's also interesting to note that vining plants can be trained upward, as well as horizontally, to create living walls of plants that are easy to monitor and, after fruiting, easy to harvest.
Unlike other hydroponic systems, each Bato bucket acts as both a host for a media bed, as well as the water and nutrient solution required for plant growth. The buckets are connected in series, and use the same water line, and the same drainage line. They can be set either on a bench or table, or directly on the floor if necessary. When connected in series, they should be staggered, with each alternating bucket's drain port facing inward to ensure that a central drain line can serve all buckets in the series.

Advantages
Dutch bucket Hydroponics
Simple and scalable

One can go from 50 buckets to 500 buckets in a matter of a few days.

Cost-effective

One time set-up cost gives the ability to crops for the next 8-10 years. Setup are robust and reliable for long-term investment.

Water saving

Recirculation helps in saving 85% more water than open-field agriculture.

Independent Setup

Each plant grows in its separate bucket. Easier to quarantine a diseased plant and control the spread of disease without affecting the entire system.

Multiple varieties of crop

One system provides the ability to grow multiple varieties of crop
Why Choose Agriplast
Hydroponics
Training and
Support
Agriplast has Inhouse subject experts in all the aspects of Greenhouse and Hydroponics who leads our project team in PAN India and more than 15 countries.
Agriplast give complete training of hydroponics onsite to each of its project which ensure that every ground staff get the understanding of complete system.
Complete support right from seed selection till harvest is provided to ensure the project success.
Know more about
Types of Hydroponics
Send us a message and we will help you to know about the Types of Hydroponics